April Showers
Rain is one of the biggest worries for brides-to-be. Although it's an old wives' tale that rain on your wedding day means good luck, waking up to drizzle and stormy skies can make any bride feel far from lucky. As Alanis Morissette once sang, "It's like rain on your wedding day", but there are plenty of ways to prepare for a wet wedding, and some cool ideas too! While it's something you can't control, what you can control are your plans to make the very best of a wet-weather day. Take a look at our top tips for dealing with wet weather on your big day and reasons why your potentially rainy day will be an amazing one.
1. Wellies- there is nothing cooler than a bride in some pretty welly boots giving a festival chic vibe.
2. Umbrellas- lots of different or matching coloured umbrellas that will look fun in your wedding photos.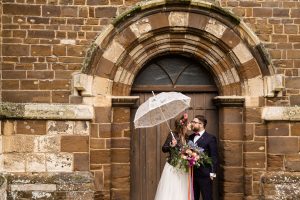 3. Warm Comfort Food- we all know that food is one of the best parts of any wedding! With dreary weather, you and your guests can indulge in some delicious hot stews, roasts or even serve hot chocolate! Who wants a salad anyway?!
4. Photographs- rainy weather usually makes for better pictures. Soft clouds rather than blazing sunshine and harsh shadows and how fun to add in extra props such as wellies and umbrellas into your wedding album!
5. Rainbows- You could see one! How lucky and magical would that be on your wedding day, especially if your photographer is able to capture it.
6. Essentials- don't forget to pack your hairdryer, make-up (especially the waterproof mascara!) and hairspray so you can touch up if you do happen to get caught in the downpour!
7. Flowers- Your beautiful wedding day blooms are less likely to wilt in the rain. Win!
I made some beautiful colourful w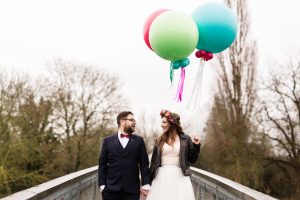 edding balloons for a wedding shoot recently and it just so happened to rain. It didn't dampen the mood though (excuse the pun) and just take a look at these awesome pictures and video below.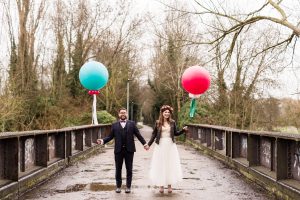 You really can't predict the weather, so why stress and worry about it? Just remember what really matters on your wedding day. It's not going to be a disaster if everything doesn't go completely to plan and you do end up with rain on your wedding day. This is about the two of you sharing your big day with friends and family, and not even a downpour can ruin that!
Until next time,
Helen
https://vimeo.com/255187224
With thanks to
Videography + Styling @hushabyefilms hushabyefilms.com
Photography @sarahbrookesphotography www.sarahbrookesphotography.com
Flower Crown + Bouquet @floralflowersandfoliage
Flower Hoops @rosehipbespoke
Bridal Wear @woburn_bridal
HMUA @bellesbeautymua
Car @cambridgeweddingcars
Balloons @creativedecorations
Umbrellas @hertsvintagechina
Models @iheartvantime @jackswarner
Shoot Assistant @sarahsymmonds_
Alpacas: Winterfel Alpacas