Christmas is Coming!!
With Halloween well and truly out of the way, it's time to start talking about all things…. CHRISTMAS!!
Christmas is coming and along with it comes the festive party season. Here at Creative Decorations we can offer you an exciting range of party balloo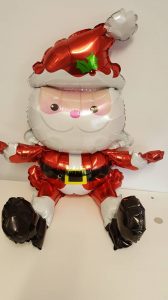 ns and accessories perfect for all of those upcoming events that you may have planned. But before we go into that, we've put together a few ideas for hosting the perfect Christmas party! Here's our 8 must-haves for a great Christmas party!
1.Create a Christmas Playlist on Spotify.
Nothing sets the mood better than some good ol' Christmas jams. Rocking Around the Christmas Tree, All I Want for Christmas and The Pogues are absolute winners to get your guests singing and dancing!
2. Ugly Jumper Theme
We all know someone that turns up on Christmas day with the worst Christmas jumper you've ever seen. Make it a theme! You could reward the person with the worst jumper with some festive treats!
3. FOOD!
Have lots of food. Food, of course, is the most essential aspect of your party. Everyone will be looking forward to your festive snacks and not having to cook dinner when they get home because they've filled up on all of your "goodies." Cookie trees, marshmallow Santa's, Christmas crunch popcorn, the list goes on and on. Get creative!
4. And Don't Forget the Festive Drinks.
Have a pot filled with hot chocolate, some eggnog in the fridge and some hot apple cider in the slow cooker. It will fill the room with the scents of Christmas and add to the occasion.
5. Set up a Christmas Photo Booth.
It doesn't have to be anything fancy. As Pinterest has taught us, throw a red sheet on the wall, grab some Christmas themed prop, like Santa hats and reindeer antlers, and you're ready to go. Now you have proof of all the fun you've had… after all, if you don't post a photo on Instagram of the party you had, did you even have it?
6. Party Games
Everyone loves party games and it's a great way to have a laugh and relax. Some good ones include a gingerbread decorating comp, white elephant and the Christmas gift wrap relay. Have fun with it!
7. The Décor
You will already have thrown around a bit of Christmas cheer in your home with your Christmas tree and/or decorations. Why don't you add a string of fairy lights across the ceiling or around windows and doors? Add a bowl or tray full of sparkly baubles and a few festive candles on your table, this will be enough to create a festive atmosphere. Or call us and let us add some Christmas balloon trees, personalised foil balloons or even some little elves for the shelves!
8. Invitations
The best way to get all of your friends interested and excited about your party is by sending out invitations rather than just sending out a mass group text. Throw some creativity and thought into your invitations!
Creative Decorations can help you with all of your Christmas party needs, we offer the following to add that extra special touch to any festive event:
Balloon Christmas Tree-
These look fabulous and add that wow factor to any party.
Balloon Wreath-
Add a touch of something different to your event with these wreaths, or just a decoration for your home for you! Beautiful.
Santa and Elf Balloon Characters-
With star balloons! Put your own message on them to make them personal.
Chocolate Crackers-
Great for secret Santa gifts, table gifts or stocking fillers
Until next time,
Helen