Summer Celebration Balloons
Summer Celebration Balloons
With A Level and GCSE results almost due, there's so much to celebrate and so many people to thank!
August is the time for the dreaded exam results. It's the time of year, whether you've just finished school or you're a college leaver, that the local papers will be full of pictures of ecstatic young students jumping for joy over the contents of their brown exam results envelope. The radio will have numerous students bursting with pride, announcing to its listeners which university they have gotten into and parents will have their fingers hovering over their phones anticipating THE call from their beloved.
Whether you're equally excited about your results or just want to forget about them and move on, we've put together a few ideas of ways to celebrate and some gift ideas for all those involved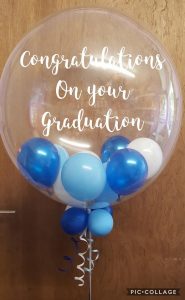 in the crazy exam period. Whatever you're doing, you might as well start it off with a bang!
Congratulations!
Show your loved one how proud you are, whatever their results, with a surprise balloon bouquet ready and inflated for when they get home. We have a range of foil balloons with different messages, or you could personalise a balloon, with your own message if you wish to make it extra special!
Thank You Balloons
Teachers are fab, and at the end of each school year many people like to show their gratitude and thanks to a teacher for all of their help and support. You could club together with your friends and buy a balloon in a box.
Sweet Trees/bouquets
Say "thank you" or "congratulations!" with one of our sweet gifts! We offer a huge selection of sweets and chocolate to go on your tree or in a bouquet, so pick your lucky recipient's favourite treat and surprise them with one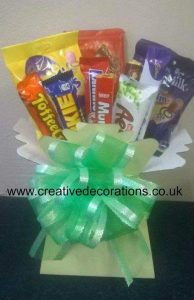 of our funky and unique trees.
P-A-R-T-Y!
Are you doing a graduation party/ end of school party? Balloons are a fantastic way to add some colour and fun to your event, whether they are to walk through at the entrance of the venue, to decorate a garden or go above the DJ decks, they certainly give that "WOW!" factor.
Sweet Cart
If you're having a party, don't forget that we also have a sweet cart. Our sweet carts are supplied with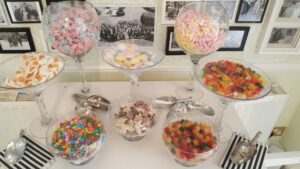 scoops, tongs and bags to match your colour scheme, and you get to keep whatever is left at the end. Why not add some of our balloons to the cart too?
Glitter!
If you're having a party, or just fancy some glitter in your hair for prom, we can do that too. Glitter roots are all the rage at the moment, and you can really stand out at your party or prom! If you are having a themed party, let us know! Nicole can do a range of designs to suit any occasion. All of our face paints are formulated to be Paraben and fragrance-free and are made of premium cosmetics ingredients.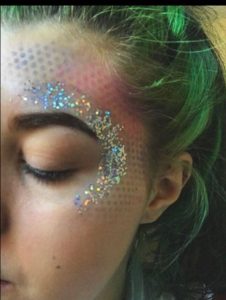 Whether it's a "thank you" gift, "congratulations" balloon or a party, Creative Decorations can help!
Drop us a message to discuss your bespoke party needs and gift ideas.
Until next time,
Helen