Balloon Decorators – Why you need one
Balloon Decorators- Why You Need One
So, you're planning a special event, maybe a wedding reception or a birthday party, and you want to incorporate balloons in some way. In this blog, we are going to let you know WHY you should hire a professional balloon decorator rather than doing it yourself or getting someone unqualified in to cut costs.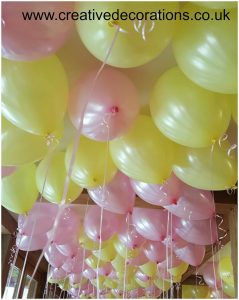 Hiring one of our professionals allows you to completely relax and enjoy every bit of the party, without feeling the pressure. With that said, you may still be having doubts as to whether you need to hire a specialist for your next party, so here are some more reasons to give us a try:
1.You will be too busy dealing with other things on party day
It's impossible and stressful trying to be sociable with everyone at your party anyway, making sure all your guests are entertained and keeping an eye on the kids/animals/drunk friends to make sure they stay out of trouble, without the added stress of trying to organise balloon arches, and balloon walls! Creative Decorations will take all of that stress away, we've got you covered.
2. Disposable canisters never expel the full amount stated
True story! I get lots of last minute calls from people who use disposable canisters and quickly realise it's not enough for the required number of balloons they need. I've also had panicked phone calls from mums and dads who have spent the whole night before their child's party filling up heaps of balloons, only to find by the morning, the balloons are on the floor!
Hiring a professional means that the set up for parties/weddings/events will be done the night before and your balloons will still be floating by morning. Win!
3.You were just going to ask one of your friends or family to take care of the balloons
Firstly, they're guests and are probably keen to have fun too. Secondly, are you sure that you want to risk having a potential disaster with the balloons just to save a few quid?
4. Buying cheap balloons online doesn't always save you money
Especially if you have to end up doing it twice. Cheap foil balloons online don't always float and small foil balloons are not suitable for helium so will also not float!
We used to offer a balloon filling service but do not anymore. Why? Because of the amount of bad quality balloons we were being asked to fill. Most were not suitable for helium and would never last the duration of an event.
Here's a few points to remember when hiring us as your balloon decorator:
1. Creative Decorations are fully trained and insured
2. We do the job for you, allowing you more time to get ready for your event
3. Our balloons are QUALITY and will last the duration of your event and beyond!
Remember cheap is not always best
Until next time,
Helen