Weddings with Creative Decorations
Balloon Decor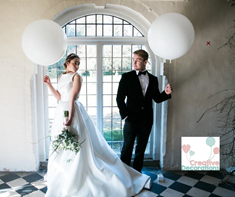 Make your big day extra special. with Wedding balloon decor – arches, balloon centerpieces and unique floating creations from Creative Decorations Balloons can transform any venue into one of beauty. Mix helium, foil, latex and double-bubble balloons. Leave them loose for the dancefloor, create a balloon path or balloon bouquets. Mr and Mrs balloons have proven to be extremely popular and create beautiful wedding images. The possibilities are endless!
Here's a list of the all the types of wedding balloon decor I can provide:
Table Decoration
Candle centre pieces and flowers are lovely, but they can ruin the conversation on a table if the people across from each other can't see who they are talking too. Instead, go for a helium filled bubble balloon to make an impact. You can easily tie them into your theme by having them filled with confetti in your colours or have them printed with the wedding date and couple's names. By having them on a long piece of ribbon, it opens up the table for the guests to talk!
Dance Floor Back Drops
Helium filled letters are a cost-effective way to decorate your dance floor. Whether you want to spell "Mr & Mrs", "LOVE" or maybe the date of the wedding They are a Creative way to personalise your venue. You could even have a balloon drop where a sea of balloons float over you and your new husband/wife during your first dance as Mr and Mrs!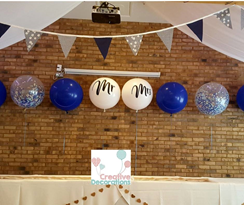 Bouquets
Step away from the normal flower and hoop bouquets and opt for something different to accompany you and your bridesmaids down the aisle.
For the Evening
Sparkler tunnels have become a very popular for wedding evenings and yes, they look great on Instagram, but be unique and break away from this trend and go for a dramatic balloon arch! They look wonderful.
We can also offer you a Sweetie Cart for your evening reception. This is always a huge hit for children and adults!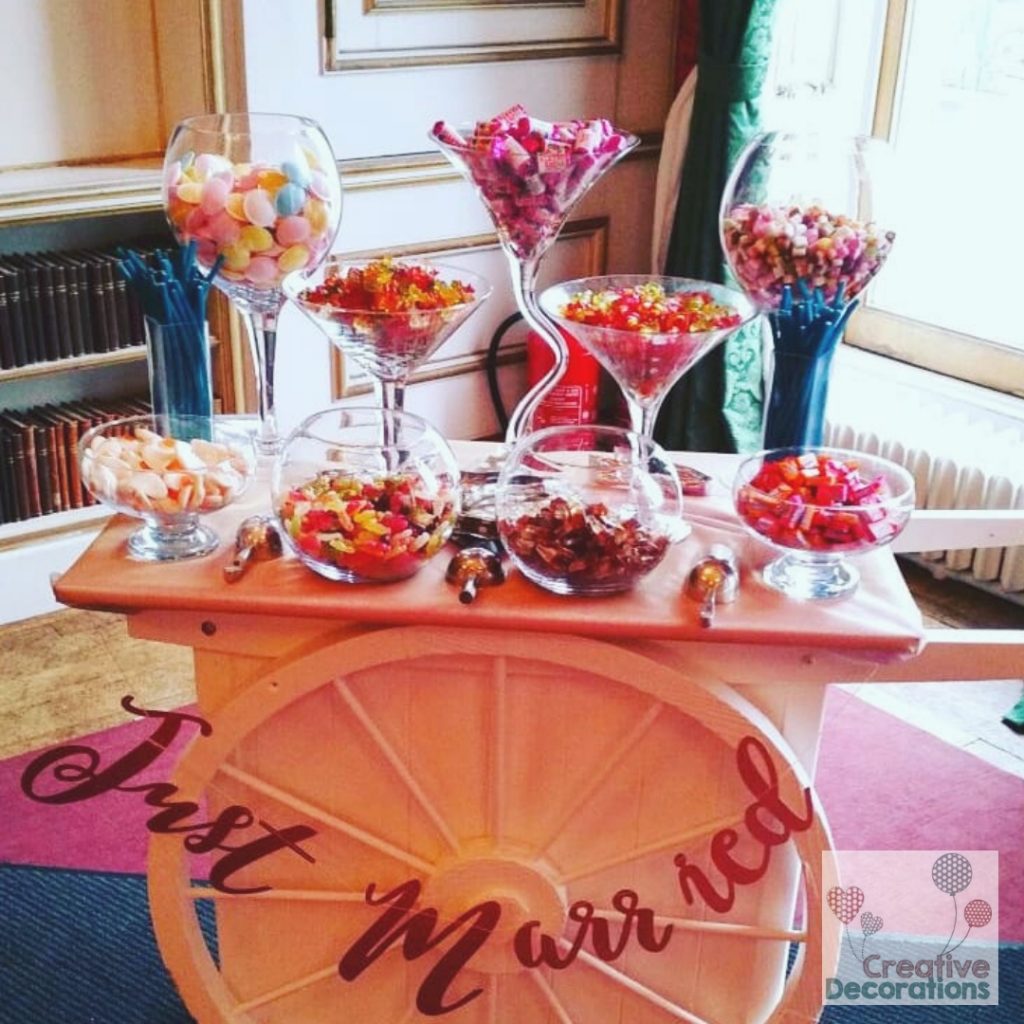 Simply tell us your colour scheme, the look you'd like to achieve, and we will design some amazing balloon creations to give your space just the right atmosphere and look. Working with Creative Decorations is easy, we are punctual, understanding and have impeccable attention to detail. Go on, give us a try, we are confident you won't regret it.
Until next time,
Helen